Add some EXCITEMENT to your celebration!
Halloween balloon decorations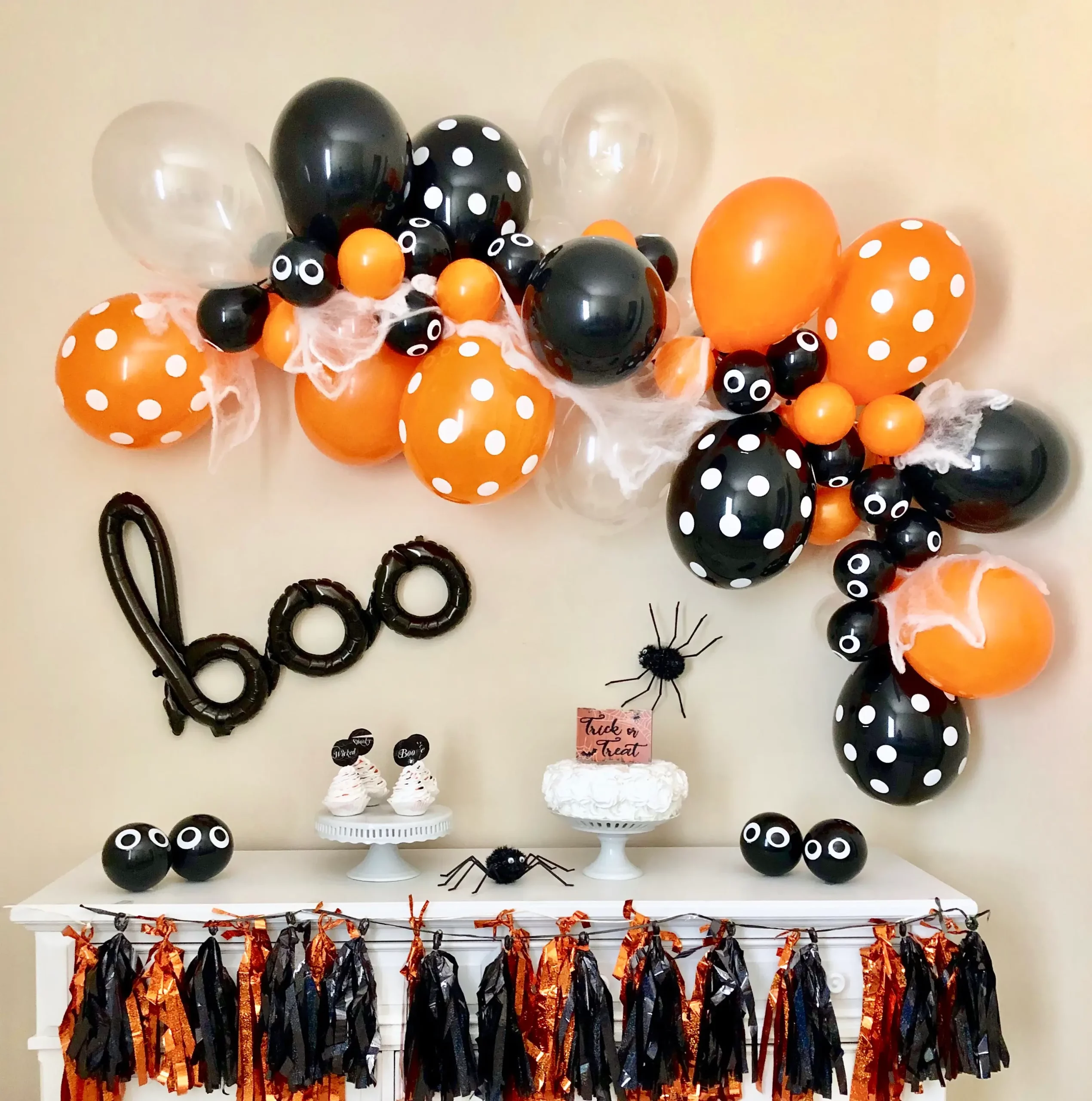 Halloween custom balloons are a fantastic way to add a playful and spooky touch to your Halloween party or event. Balloons can be customized with Halloween-themed designs, such as bats, spiders, ghosts, and pumpkins, creating a festive and fun atmosphere. Balloon garlands, arches, and bouquets can be used to create a stunning and spooky visual display, making it a photo-worthy occasion. Customized balloon banners and balloon letters can be used to spell out a Halloween message or express your spooky creativity, creating a beautiful and unique photo backdrop for family and friends. Balloons can also be used for interactive and creative elements, such as a balloon photo booth or balloon sculptures. With the versatility of custom balloon decorations, the possibilities are endless, making it easy to create a memorable and spooky Halloween celebration. So why not add a fun and personalized touch to your Halloween party with custom balloon decorations that will make it a day to remember? BalloonLab will provide you with the most beautiful balloons for your Halloween celebration, as well as for other special occasions such as Christmas balloons, to create that wow factor and leave her delighted. Beautiful balloons are affordable, easy to select your preference, and create a fun atmosphere. Balloon decorations are a must-have for Halloween.
Elevate your Halloween festivities with captivating Halloween balloons decorations. Create an enchanting ambiance with eerie and playful halloween balloons arrangements that set the perfect tone for your spooky celebration. From wickedly creative balloon arches to hauntingly beautiful balloon centerpieces, BalloonLab's expert designs will add a touch of enchantment to your Halloween party. If you're searching for "halloween balloons near me," look no further. With their vast selection of themed designs and colors, you can easily find the ideal halloween party balloons to complement your decor. When it comes to convenience, BalloonLab's balloons delivery for Halloween balloon decoration ensures that your spooky setup is ready to bewitch and captivate, making your Halloween event a spine-tingling success that guests will remember for years to come.
Select your beautiful balloons for Halloween
Make your event colourful, bright and unforgettable!
Most popular balloons for Halloween

Personalized Service
Your inspiration and vision are our mission to craft the most beautiful balloons for your event.

Local Expertise
Our delivery team has extensive knowledge of the local area, experience working with popular event venues, local customers, and cultural traditions.

Quality Service
We are highly invested in the quality of our work, the team members we bring on and professionalism.
Flexibility
We will remain flexible and ensure a stress-free experience when you work with our team.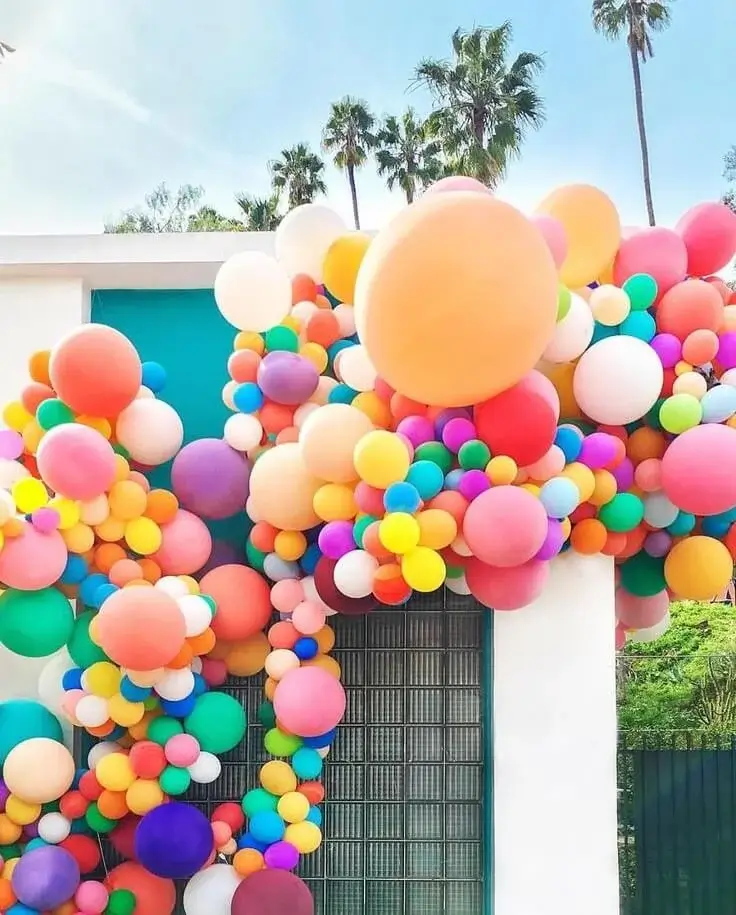 Welcome to BalloonLab, your one-stop-shop for personalized and custom balloon arrangements that will leave your guests in awe. We are a family-owned and operated business that has been serving the Chicagoland area since 2008, providing exceptional customer service and a great selection of customized balloon decorations.
At BalloonLab we believe that every event is unique, and that is why we offer a range of personalized and custom balloon arrangements that are tailored to your specific needs. Whether you're planning a corporate event, a wedding, a birthday party, or any other special occasion indoors or outdoors, our team of expert balloon artists will work with you to create the perfect balloon decor that will leave your guests talking.
We pride ourselves on being customer-focused and providing great customer service, and that is why we go above and beyond to make sure that our clients are completely satisfied with our services. From the moment you contact us, we will work with you to understand your needs and help you choose the best balloon arrangements that fit your budget and event theme.
Our selection of customized balloon decorations is always growing, and we are constantly updating our inventory to ensure that we have the latest and most innovative designs. Whether you're looking for balloon arches, balloon garlands, centerpieces, or any other type of balloon decor, we have you covered.
At BalloonLab we specialize in creating wow factors that will make your event unforgettable. You can put your confidence in our team of expert balloon artists who have years of experience creating stunning balloon arrangements that are sure to impress your guests.
We are proud to be a trusted member of the local community, and we have built our reputation on providing high-quality balloon decor and exceptional customer service. We are committed to making your event a success, and we look forward to working with you to create the perfect balloon arrangements that will leave your guests in awe.
Balloon decorations for Halloween can include themed balloon shapes like pumpkins, ghosts, or bats. Balloon columns, arches, or walls in Halloween colors like black, orange, purple, and green can also be effective. Some people also use large foil letter balloons to spell out Halloween messages like "BOO" or "TRICK OR TREAT".
Balloons can be incorporated into your Halloween celebration as part of your home or party decoration. You could create a spooky balloon archway at the entrance of your party area, decorate your porch or living room with Halloween-themed balloons, or use balloons as part of your table centerpieces.
During Halloween, popular balloons include a variety of spooky and festive designs that capture the essence of the season. From classic orange and black balloons to ghost-shaped balloons, pumpkin balloons, and even balloons with eerie phrases, the options are endless. To make your Halloween decor truly stand out, consider opting for halloween balloons delivery services. BalloonLab offers a diverse range of Halloween-themed balloons that can be delivered right to your doorstep, saving you time and effort. For a unique touch, you might even want to consider a balloon wall adorned with haunting designs, creating a captivating backdrop for your Halloween festivities. When it comes to making your Halloween celebration unforgettable, ordering a balloon wall from BalloonLab ensures a spooky and stylish ambiance that your guests will love.