Balloon columns in Chicago
Add some EXCITEMENT to your next event!
Starting prices shown below*
How much does balloon column cost?
| | | |
| --- | --- | --- |
| IMAGES | EXAMPLES | PRICE |
| | Balloon Column 1 | Starting at $159 |
| | Balloon Column 2 | Starting at $199 |
| | Balloon Column 3 | Starting at $249 |
| | Balloon Column 4 | Starting at $199 |
| | Balloon Column 5 | Starting at $179 |
| | Balloon Column 6 | Starting at $199 |
| | Balloon Column 7 | Starting at $159 |
| | Balloon Column 8 | Starting at $159 |
| | Balloon Column 9 | Starting at $225 |

Personalized Service
Your inspiration and vision are our mission to craft the most beautiful balloons for your event.

Local Expertise
Our delivery team has extensive knowledge of the local area, experience working with popular event venues, local customers, and cultural traditions.

Quality Service
We are highly invested in the quality of our work, the team members we bring on and professionalism.
Flexibility
We will remain flexible and ensure a stress-free experience when you work with our team.
Beautiful balloons are a great choice for your next special occasion
Balloon Columns Decoration in Chicago, IL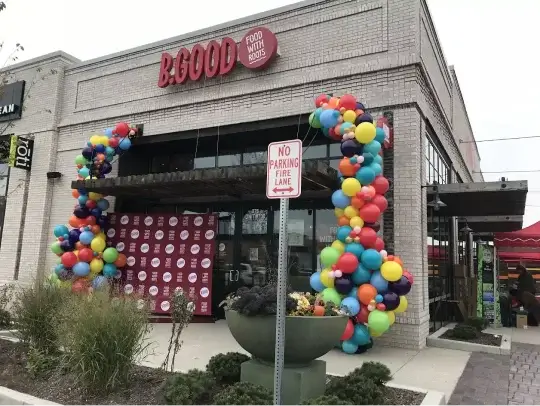 Oh, balloon columns, they are simply amazing and have become the life of every social and corporate event! The vibrant and playful style of rainbow balloon columns adds a burst of color and happiness to any occasion, instantly lifting everyone's spirits and bringing smiles to their faces. The sheer joy that comes from seeing a rainbow balloon column cannot be overstated. It's a symbol of hope, optimism, and pure unbridled fun!
And let's not forget the elegance and sophistication that number balloon columns bring to the table. They're perfect for corporate events or any special occasion where you want to create an upscale atmosphere. The sleek and modern design of the number balloon tower adds a touch of class and professionalism that can't be matched. They're sure to impress all your guests, leaving them with a lasting impression of your impeccable taste and attention to detail.
The benefits of Decorating your event with Balloon Columns
The benefits of decorating your event with elegant balloon columns, especially those designed by experts like BalloonLab, are simply endless. Balloon pillar are versatile, cost-effective, and can be customized to fit any theme or style. Created by professionals such as BalloonLab, they can be used to create a grand entrance or highlight a specific area of your event space. Balloon columns can also be used to create stunning backdrops for photo booths or serve as eye-catching centerpieces for tables.
Types of balloon columns
Classic Helium Balloon Column: This type features helium-filled balloons attached to a pole, creating a tall, floating column.
Spiral Balloon Column: Balloons are arranged in a spiral pattern along the column, adding a playful and dynamic look.
Sculpted Balloon Column: These columns are shaped into various designs, such as animals, characters, or objects, using balloons to create a sculptural effect.
Double-Helix Balloon Column: This unique design features two intertwined spiral patterns, creating an eye-catching and elegant column.
Balloon Garland Column: Similar to a balloon arch, this column features balloons arranged in a garland style, either wrapped around the column or spiraling down.
Themed Balloon Column: These columns are customized to match specific themes or events, using relevant colors and decorations.
Corporate Logo Balloon Column: Customized with a company's logo or branding, these columns are often used for corporate events, trade shows, or product launches.
But perhaps the best benefit of all is the emotional impact that balloon columns, and the anticipated thrill of a balloon drop, have on everyone at your event. They're an instant mood booster, adding an element of excitement and fun that can't be matched by any other balloon decoration. Balloon columns, with the promise of a balloon drop, are a symbol of celebration, a sign that something special and memorable is happening. They create an atmosphere of joy and happiness that will stay with your guests long after the event is over and the last balloon has floated down.
So, whether you choose a rainbow balloon column near me or a number balloon column, the emotional impact of these stunning decorations is undeniable. They're the perfect addition to any social or corporate event, creating an unforgettable experience that everyone will cherish forever.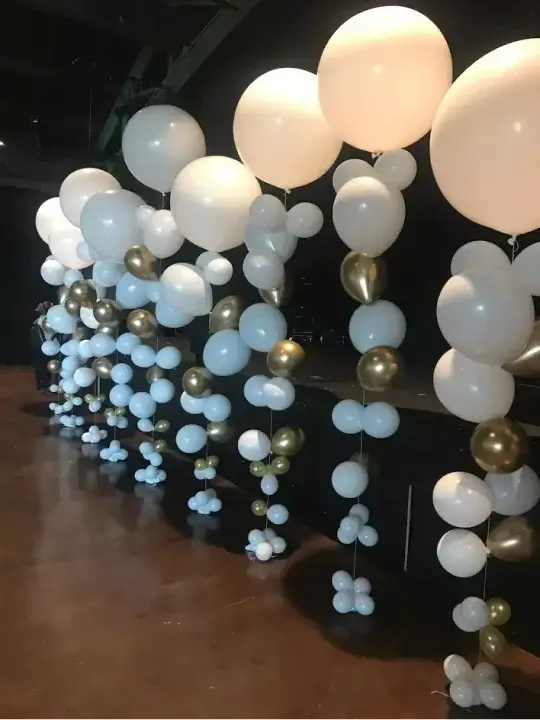 Yes, balloon columns can be used outdoors, but it's important to consider the weather. Balloons can be affected by heat, cold, and wind, which can potentially damage the column or cause the balloons to deflate.
Virtually any theme can be incorporated into balloon columns. You can choose colors to match a party's theme, use printed balloons with specific designs, or add elements like faux flowers or themed balloon shapes.
To extend the life of your balloon column, try to keep it in a controlled environment away from direct sunlight, heat, or cold. Also, using a product like balloon shine can help the balloons retain their luster and prevent them from oxidizing or losing color.