Balloon Garland in Chicago
Add some EXCITEMENT to your next event!
Starting prices shown below*
How much does balloon garland cost?
| | | |
| --- | --- | --- |
| IMAGES | EXAMPLES | PRICE |
| | Balloon Garland 1 | Starting at $229 |
| | Balloon Garland 2 | Starting at $199 |
| | Balloon Garland 3 | Starting at $249 |
| | Balloon Garland 4 | Starting at $249 |
| | Balloon Garland 5 | Starting at $279 |
| | Balloon Garland 6 | Starting at $199 |
| | Balloon Garland 7 | Starting at $229 |
| | Balloon Garland 8 | Starting at $279 |
| | Balloon Garland 9 | Starting at $299 |

Personalized Service
Your inspiration and vision are our mission to craft the most beautiful balloons for your event.

Local Expertise
Our delivery team has extensive knowledge of the local area, experience working with popular event venues, local customers, and cultural traditions.

Quality Service
We are highly invested in the quality of our work, the team members we bring on and professionalism.
Flexibility
We will remain flexible and ensure a stress-free experience when you work with our team.
Beautiful balloons are a great choice for your next special occasion
Balloon Garlands in Chicago, IL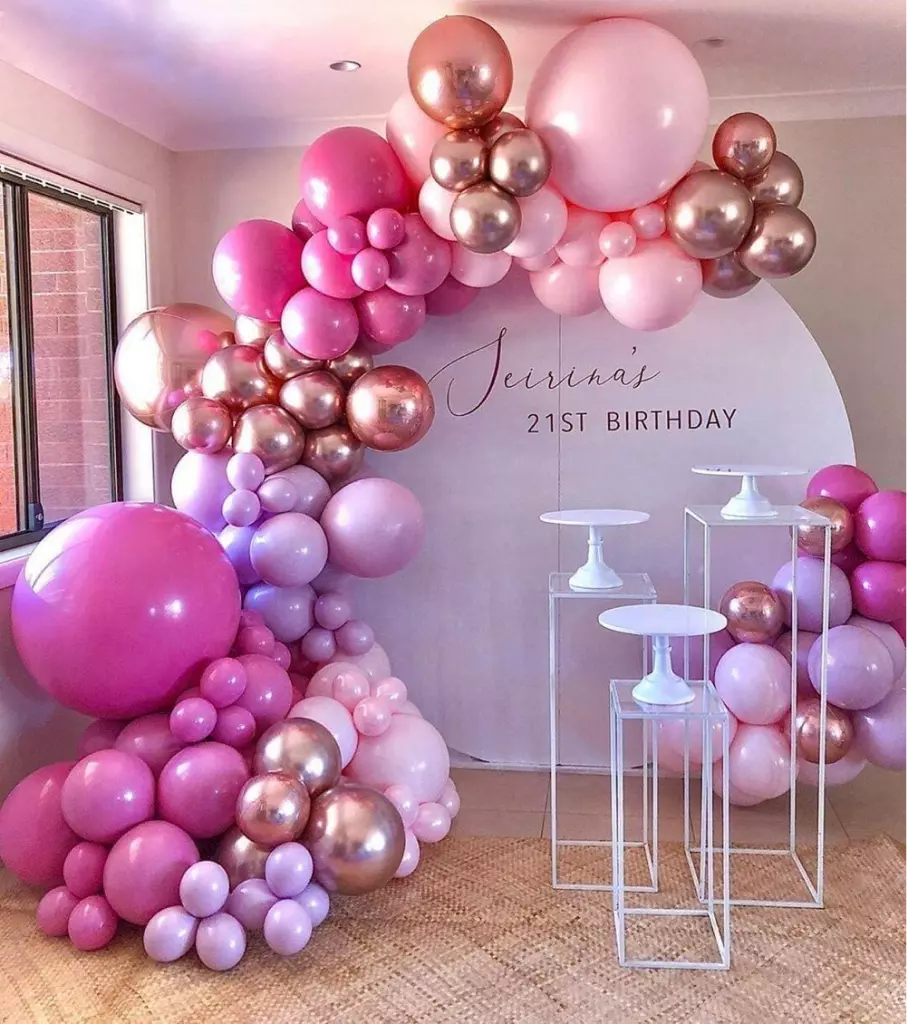 Balloon garlands have become a sensation in the world of social and corporate events, and for good reason. They are simply bursting with emotion and excitement, making them a must-have for any celebration. These colorful creations bring a sense of joy and playfulness to any space, creating an atmosphere that is fun, lively, and full of positive energy.
Whether you're celebrating a wedding, birthday, or corporate event, balloon garlands and creatively crafted balloon sculptures have the power to transform any space into a whimsical wonderland. They add a touch of whimsy and childlike wonder that can make any occasion feel special and magical. Whether you're indoors or outdoors, these garlands and mesmerizing balloon sculptures can bring color and life to even the dullest of spaces.
The mere sight of a balloon garland brings a sense of happiness and cheerfulness that can instantly lift one's mood. These balloon decorations can be customized to suit any theme or color scheme, allowing event organizers to express their creativity and personal style. They can be simple or elaborate, sophisticated or playful, making them perfect for any type of event.
Different types of balloon garlands
Classic Balloon Garland: A timeless arrangement featuring balloons of various colors and sizes.
Organic Balloon Garland: An arrangement that mimics the randomness of nature, with balloons placed in a more organic and free-form style.
Double-Stuffed Balloon Garland: Balloons filled with smaller balloons, creating a layered and textured look.
Themed Balloon Garland: Designed to match specific themes or occasions, such as birthdays, weddings, or holidays.
Spiral Balloon Garland: Balloons arranged in a swirling, spiral pattern for a unique visual effect.
Metallic Balloon Garland: Featuring shiny, metallic balloons for an elegant and glamorous look.
Floral Balloon Garland: Incorporating artificial flowers or greenery with balloons for a garden-like aesthetic.
BalloonLab's garlands are not just visually stunning, they also create an immersive experience that can engage all the senses. The texture and feel of the balloons as they brush against your skin, the gentle rustle of the ribbons as they sway in the breeze, and the sound of laughter and conversation that fills the air, all work together to create an unforgettable sensory experience.
BalloonLab uses the best balloons for balloon garland to create a small balloon garland or balloon garlands with flowers, we have a lot of types of balloon garlands to satisfy any customer need.
Overall, balloon garlands have become a staple of modern event decor because they evoke powerful emotions of joy, excitement, and wonder. They are an excellent way to create a festive atmosphere and add a touch of magic to any occasion.
A balloon garland is a decorative arrangement of balloons strung together to create a garland. These can be hung up, draped, or arranged in various ways as a centerpiece, backdrop, or accent for events or parties.
A balloon garland decoration service typically provides everything from design consultation to the supply of materials, assembly, and installation of the balloon garland at your event location. They also offer additional features such as themed props, lighting, and floral additions. If you're searching for a reliable and professional balloon garland service near me, look no further than BalloonLab. We pride ourselves on creating stunning balloon garlands that will elevate the ambiance of your event and leave your guests in awe.
Yes, a professional balloon garland decoration service should be able to create a custom design that fits with your event's theme, color scheme, and ambiance. You should provide them with as much information as possible about your vision for the event. If you're looking for a reliable and creative balloon garland nearby, BalloonLab is here to bring your vision to life. Our team of skilled balloon artists will work closely with you to design the perfect balloon garland that complements your event and leaves a lasting impression on your guests.