ADD SOME EXCITEMENT TO YOUR NEXT EVENT!​

Personalized Service
Your inspiration and vision are our mission to craft the most beautiful balloons for your event.

Local Expertise
Our delivery team has extensive knowledge of the local area, experience working with popular event venues, local customers, and cultural traditions.

Quality Service
We are highly invested in the quality of our work, the team members we bring on and professionalism.
Flexibility
We will remain flexible and ensure a stress-free experience when you work with our team.
Make your event colourful, bright and unforgettable!
Let's Make Your Event Memorable!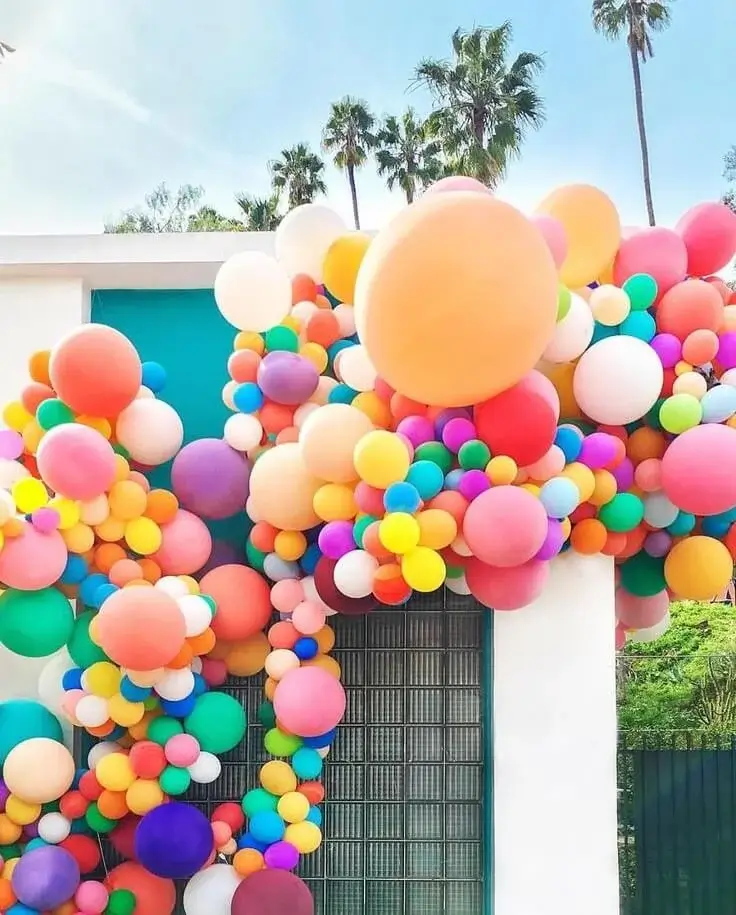 Welcome to BalloonLab, your one-stop-shop for personalized and custom balloon arrangements that will leave your guests in awe. We are a family-owned and operated business that has been serving the Chicagoland area since 2008, providing exceptional customer service and a great selection of customized balloon decorations.
At BalloonLab we believe that every event is unique, and that is why we offer a range of personalized and custom balloon arrangements that are tailored to your specific needs. Whether you're planning a corporate event, a wedding, a birthday party, or any other special occasion indoors or outdoors, our team of expert balloon artists will work with you to create the perfect balloon decor that will leave your guests talking.
We pride ourselves on being customer-focused and providing great customer service, and that is why we go above and beyond to make sure that our clients are completely satisfied with our services. From the moment you contact us, we will work with you to understand your needs and help you choose the best balloon arrangements that fit your budget and event theme.
Our selection of customized balloon decorations is always growing, and we are constantly updating our inventory to ensure that we have the latest and most innovative designs. Whether you're looking for balloon arches, balloon garlands, centerpieces, or any other type of balloon decor, we have you covered.
At BalloonLab we specialize in creating wow factors that will make your event unforgettable. You can put your confidence in our team of expert balloon artists who have years of experience creating stunning balloon arrangements that are sure to impress your guests.
We are proud to be a trusted member of the local community, and we have built our reputation on providing high-quality balloon decor and exceptional customer service. We are committed to making your event a success, and we look forward to working with you to create the perfect balloon arrangements that will leave your guests in awe.
Make your event more colorful with balloons!
We want to provide utmost transparency and integrity, so you are never surprised. Here are the most popular and frequently asked questions we would like to answer to help better prepare you for your upcoming event.
Didn't find your question?
Balloon Service in Chicago, IL
Are you looking to add a touch of magic and whimsy to your upcoming event in Chicago, IL? Look no further than our professional balloon decoration services. We specialize in transforming ordinary spaces into extraordinary experiences through the art of custom balloons.
Our team of skilled balloon artists is dedicated to creating visually stunning displays that will leave your guests in awe. From elegant balloon arches that greet your attendees at the entrance to intricately designed centerpieces that perfectly complement your theme, we have the expertise to bring your vision to life. But we don't stop at just decorations. From photo-worthy balloon backdrops to creative balloon sculptures, we strive to engage and delight every attendee. As one of the best balloon vendors near me, we ensure that your event is unforgettable with our exceptional balloon arrangements.
With our attention to detail, professionalism, and commitment to customer satisfaction, you can trust us to deliver high-quality balloon decoration services for any occasion, whether it's a wedding, birthday party, corporate event, or grand opening. Let our balloon decorations company turn your event into an unforgettable celebration with our exceptional balloon decorations.
Balloon Delivery Services in Chicago, IL
If you need a unique and memorable gift or a creative way to celebrate a special occasion in Chicago, inflatable balloons near me delivery services have got you covered. We offer a wide range of balloon arrangements and balloon bouquets that are sure to bring joy and excitement.
No matter if it's a birthday, anniversary, graduation, or any special moment worth celebrating, our amazing team of balloon artists and balloon delivery service will create stunning and captivating balloon arrangements, including a simple balloon arrangement, that are tailor-made for the occasion. From elegant balloon bouquets to whimsical-themed designs, we have something for everyone.
What sets our balloon arrangements delivery, Chicago services apart is our commitment to quality and customer satisfaction. Each balloon is carefully inflated, arranged, and delivered with the utmost care, ensuring that it arrives in pristine condition. We also offer customization options, allowing you to add personal touches such as special messages, photos, or even small gifts. Surprise your friends, family, or colleagues with a delightful balloon delivery that will make their day extra special.
The Benefits of Decorating your event with Balloons
Decorating your event with balloons brings numerous benefits that can enhance the overall experience for both you and your guests. Here are some key advantages:
Enhances ambiance.

Personalized balloons

instantly transform any space, creating a festive and celebratory atmosphere that sets the mood for your event.

Creates a festive atmosphere. The vibrant colors and playful shapes of

balloons decor

contribute to a joyful and lively ambiance, making your event more engaging and enjoyable.

Adds color and visual appeal. Balloons come in a wide variety of colors, allowing you to match your event's theme or color scheme perfectly. They add a pop of color and visual interest, making the venue more visually appealing.

Versatile and customizable. Balloons offer endless possibilities for creativity. Our

customized balloons

can be arranged in arches, columns, or as centerpieces. They can also be combined with other decorations to create unique and personalized designs.

Cost-effective. Compared to other decorative elements, balloons are a cost-effective option that provides maximum impact. You can achieve a stunning visual effect without breaking the bank. You may also save much time by ordering your

balloons online

. 
Incorporating balloons into your event decoration plan can make a significant difference in the overall atmosphere and experience. With their versatility, affordability, and the way they instantly create a festive atmosphere, balloons are an absolutely fantastic choice for any occasion.
Choose your Perfect Balloon arrangements at BallonLab in Chicago, IL
If you're planning to order balloon decorations, BallonLab is the perfect choice for a seamless and exceptional experience. Here are several compelling reasons why you may want to choose BallonLab:
Fast Delivery. At BallonLab, we understand the importance of timely delivery. We pride ourselves on our quick turnaround times, ensuring that your balloon decorations arrive promptly for your event. You can rely on us to meet your deadlines with efficiency and professionalism.

Quality Service. Our dedicated team of balloon artists and decorators is committed to providing high-quality service. From the moment you place your order until the delivery is made, we prioritize your satisfaction. We pay attention to every detail, ensuring that your balloon decorations are of the highest quality and meet your specific requirements.

Satisfied Customers. We have a long list of happy and satisfied customers who have experienced the excellence of our balloon decorations. You can trust that BallonLab will go above and beyond to exceed your expectations.

Customization Options. We understand that every event is unique, and we offer a wide range of customization options to match your vision. Whether you have a specific theme, color scheme, or

balloon design

in mind, our talented balloon artists will bring your ideas to life with creativity and precision.

Attention to Detail. We believe that even the smallest details can make a big difference. Our team pays meticulous attention to every aspect of your balloon decorations, ensuring that they are flawlessly executed and visually stunning.
Choosing BalloonLab for your balloon order near me in Chicago means you are selecting a provider that offers fast balloon delivery, unparalleled quality service, a track record of satisfied customers, customizable options, and a keen eye for detail. Trust us to make your event truly extraordinary with our exceptional balloon decorations.