Add some EXCITEMENT to your next event!
Starting prices shown below*
How much does balloon drop cost?
| | | |
| --- | --- | --- |
| IMAGES | EXAMPLES | PRICE |
| | Balloon Drop 1 | Starting at $399 |
| | Balloon Drop 2 | Starting at $499 |
| | Balloon Drop 3 | Starting at $299 |
| | Balloon Drop 4 | Starting at $299 |
| | Balloon Drop 5 | Starting at $399 |
| | Balloon Drop 6 | Starting at $299 |
| | Balloon Drop 7 | Starting at $399 |
| | Balloon Drop 8 | Starting at $399 |
| | Balloon Drop 9 | Starting at $399 |

Personalized Service
Your inspiration and vision are our mission to craft the most beautiful balloons for your event.

Local Expertise
Our delivery team has extensive knowledge of the local area, experience working with popular event venues, local customers, and cultural traditions.

Quality Service
We are highly invested in the quality of our work, the team members we bring on and professionalism.
Flexibility
We will remain flexible and ensure a stress-free experience when you work with our team.
Beautiful balloons are a great choice for your next special occasion
Balloon Drops in Chicago, IL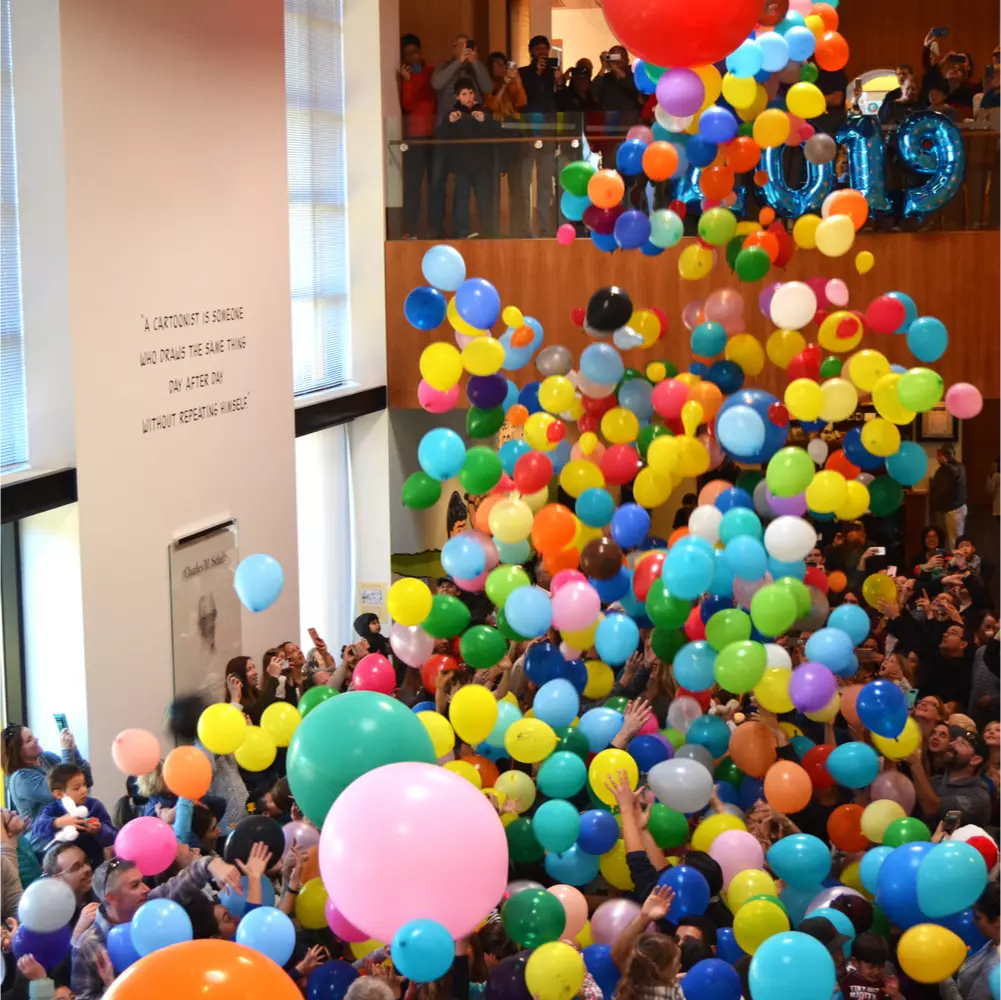 Balloon drops are a stunning spectacle that never fails to bring out childlike wonder and excitement in people of all ages. The anticipation builds as the balloons are released from their hiding place, and the air is filled with a dazzling display of color and movement. It's a moment of pure joy and celebration, as the balloons rain down around us, bouncing off heads and hands, and filling the room with a sense of buoyancy and energy.
For social and corporate events, balloon drops add an extra layer of excitement and festivity. They provide a visual feast that is impossible to ignore, drawing people in and creating a shared sense of delight and wonder. Balloon drops are a powerful way to create a sense of community and camaraderie, bringing people together in a moment of shared joy and celebration.
5 types of balloon drops
Net Balloon Drop: A net is suspended overhead, filled with balloons. At the designated moment, the net is released, allowing the balloons to cascade down.
Release Bag Balloon Drop: Balloons are held within a release bag, suspended above the desired location. When ready, the bag is opened, allowing the balloons to fall.
Single-Point Balloon Drop: Balloons are attached to a single point (often a central hook or anchor point) and released to create a mesmerizing shower of balloons.
Countdown Balloon Drop: Balloons are released in synchronization with a countdown, typically during New Year's Eve celebrations or other significant moments.
Confetti Balloon Drop: This type combines balloons with confetti. When the balloons pop or are released, confetti showers down for a festive effect.
In corporate settings, balloon decorations, especially those masterfully orchestrated by BalloonLab, can also serve as a powerful symbol of success and achievement. The burst of color and energy represents the culmination of hard work and dedication, and can help to motivate and inspire employees to continue striving for excellence. With BalloonLab at the helm, these balloon drops become unforgettable moments that truly encapsulate the spirit of celebration and achievement.
Overall, a balloon drop, paired beautifully with a bouquet of balloons, is a popular choice for social and corporate events because they tap into our deepest emotions and create a powerful sense of connection and celebration. They are a beautiful reminder of the simple joys in life, and can help to bring people together in a moment of pure happiness and wonder. You can rely on our team to make sure your drop and the display of the bouquet of balloons are memorable and bring out the excitement for your guests.
Balloon drop decor refers to a net or bag filled with inflated balloons, often suspended from a ceiling. At a predetermined moment, the net or bag is released, causing the balloons to "drop" down onto the guests below. It's a popular feature at events like New Year's Eve parties, weddings, or product launches.
A balloon drop is generally safe as long as it's set up properly and the release mechanism works correctly. It's important to ensure the net or bag is securely attached and the balloons are not filled with anything harmful. Always consider the guests at the event, for example, very small children might be frightened by a sudden balloon drop.
Yes, a balloon drop can be themed. You can use balloons in specific colors to match your event theme, or even use printed or shaped balloons. For a festive twist, you could use confetti-filled balloons.