Balloon Centerpieces in Chicago
Add some EXCITEMENT to your next event!
Balloon Centerpieces Prices
Starting prices shown below*
How much does balloon centerpieces cost?
| | | |
| --- | --- | --- |
| IMAGES | EXAMPLES | PRICE |
| | Balloon Centerpieces 1 | Starting at $49 |
| | Balloon Centerpieces 2 | Starting at $59 |
| | Balloon Centerpieces 3 | Starting at $49 |
| | Balloon Centerpieces 4 | Starting at $59 |
| | Balloon Centerpieces 5 | Starting at $49 |
| | Balloon Centerpieces 6 | Starting at $49 |
| | Balloon Centerpieces 7 | Starting at $49 |
| | Balloon Centerpieces 8 | Starting at $59 |
| | Balloon Centerpieces 9 | Starting at $59 |

Personalized Service
Your inspiration and vision are our mission to craft the most beautiful balloons for your event.

Local Expertise
Our delivery team has extensive knowledge of the local area, experience working with popular event venues, local customers, and cultural traditions.

Quality Service
We are highly invested in the quality of our work, the team members we bring on and professionalism.
Flexibility
We will remain flexible and ensure a stress-free experience when you work with our team.
Beautiful balloons are a great choice for your next special occasion
Balloon Centerpieces Gallery
Helium Balloon Centerpieces in Chicago, IL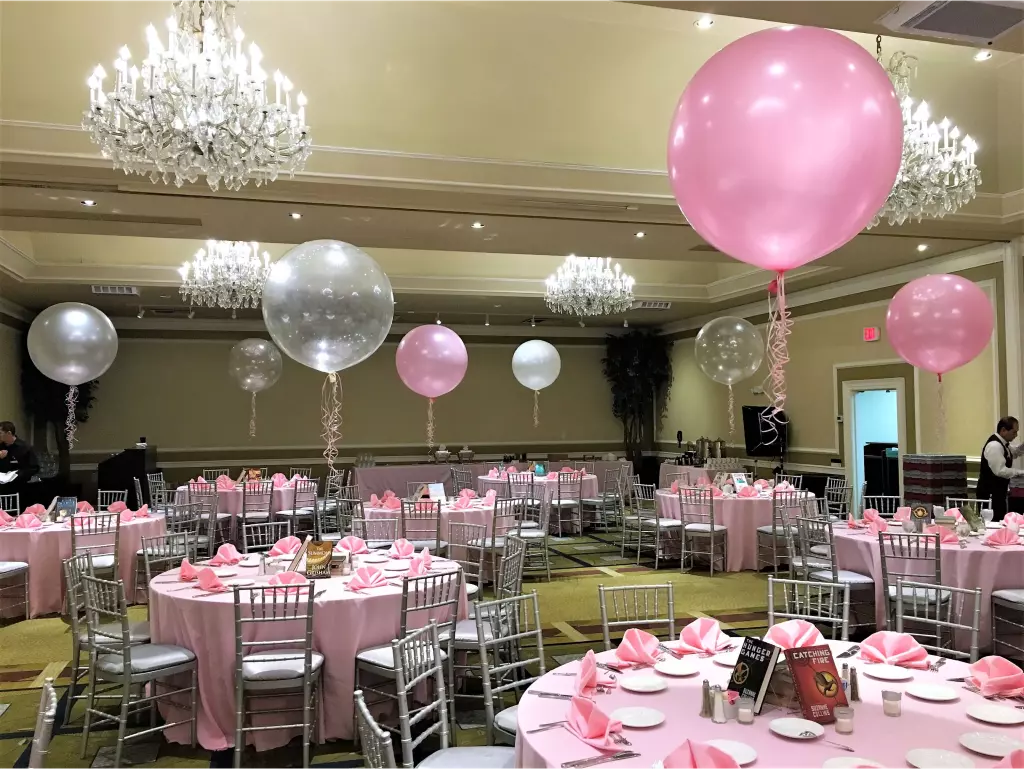 BalloonLab's centerpieces are great for social and corporate events because they evoke a sense of joy, playfulness, and celebration. When people attend events, they often want to let loose, have fun, and feel a sense of connection with others. Balloon centerpieces help to create this atmosphere by adding color, movement, and excitement to the environment.
For example, at a social event such as a wedding reception, balloon centerpieces can be placed on tables or used to decorate the dance stage, and a vibrant balloon wall can serve as a stunning backdrop, creating a festive and lively atmosphere. The bright colors and playful shapes of the balloons and the impactful presence of the balloon wall can help to put guests at ease, encouraging them to let loose and have a good time.
Similarly, at a corporate event such as a product launch or a company party, balloon centerpieces near me can be used to create a fun and engaging atmosphere. Balloon table centerpieces can be placed on tables, used to decorate the dessert table or DJ booth, or even used as part of a photo backdrop. By adding these playful and visually appealing balloon decorations, guests, employees, or clients are more likely to feel relaxed, connected, and happy, making the event more memorable and enjoyable.
Types of balloon centerpieces
Balloon Bouquet Centerpiece: A simple yet classic centerpiece featuring a cluster of balloons arranged in various heights and colors.
Balloon Topiary: Balloons attached to a stick or rod, forming a balloon tree or ball-shaped centerpiece.
Floating Balloon Centerpiece: Helium-filled balloons anchored to a decorative base, allowing them to float above the table.
Balloon Flower Arrangement: Balloons twisted and sculpted into intricate flower shapes, creating a colorful and whimsical centerpiece.
Balloon and Floral Centerpiece: A combination of balloons and fresh or silk flowers, adding a touch of elegance to the table.
Themed Balloon Centerpieces: Centerpieces designed around specific themes like movies, holidays, or seasons, adding a thematic element to the decor.
Overall, balloon centerpieces, expertly crafted by BalloonLab, have a powerful emotional impact on events, and we want you to feel the thrill and the joy. Our team at BalloonLab has been making people feel happy, excited, and connected, helping to create a positive and enjoyable atmosphere for everyone involved.
Balloon centerpieces are decorative arrangements made from balloons that are typically placed in the center of tables at events. They can vary in complexity, from a simple cluster of balloons to intricate designs involving different balloon sizes, shapes, and colors.
Absolutely! Balloon centerpieces can be themed to fit your event. This could be as simple as using specific colors, or you could incorporate balloons of different shapes, printed designs, or accessories that fit your theme.
A balloon centerpiece decoration service provides design, assembly, and installation of balloon centerpieces for tables or spaces at events. This includes sourcing and inflating the balloons, assembling them into the desired arrangement, and placing them at your event location. Balloon column centerpieces are a popular choice for adding elegance and height to your tables, and they can be customized to match your event's theme and color scheme. Whether you're planning a wedding, birthday party, corporate event, or any other special occasion, balloon column centerpieces can be a stunning addition to your decor.