Balloon Bouquet in Chicago
Add some EXCITEMENT to your next event!
Starting prices shown below*
How much does balloon bouquet cost?
| | | |
| --- | --- | --- |
| IMAGES | EXAMPLES | PRICE |
| | Balloon Bouquet 1 | Starting at $99 |
| | Balloon Bouquet 2 | Starting at $99 |
| | Balloon Bouquet 3 | Starting at $99 |
| | Balloon Bouquet 4 | Starting at $79 |
| | Balloon Bouquet 5 | Starting at $89 |
| | Balloon Bouquet 6 | Starting at $99 |
| | Balloon Bouquet 7 | Starting at $99 |
| | Balloon Bouquet 8 | Starting at $99 |
| | Balloon Bouquet 9 | Starting at $99 |

Personalized Service
Your inspiration and vision are our mission to craft the most beautiful balloons for your event.

Local Expertise
Our delivery team has extensive knowledge of the local area, experience working with popular event venues, local customers, and cultural traditions.

Quality Service
We are highly invested in the quality of our work, the team members we bring on and professionalism.
Flexibility
We will remain flexible and ensure a stress-free experience when you work with our team.
Beautiful balloons are a great choice for your next special occasion
Balloon Bouquets in Chicago, IL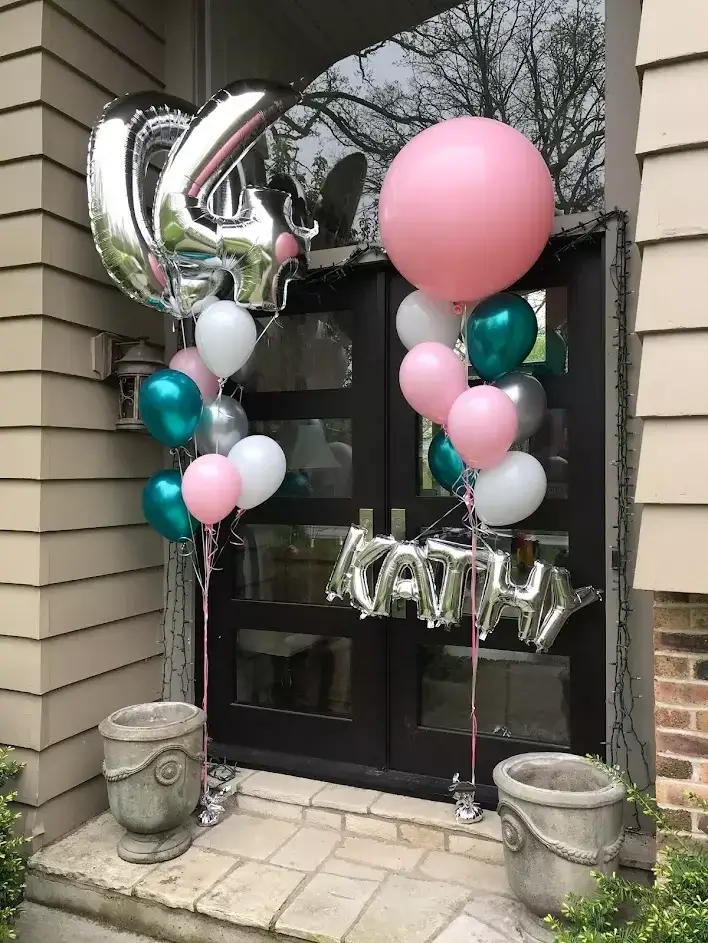 Balloon bouquets, particularly the delicate and whimsical balloon flower bouquets, have an innate ability to evoke a sense of joy and playfulness that simply cannot be matched by any other decorative item. When you enter a room filled with these colorful, cheerful balloons, your heart cannot help but swell with excitement and wonder, reminding you of carefree childhood days spent running through fields of wildflowers.
For social events, these balloon bouquets bring a sense of festivity and celebration to any occasion, from birthday parties to weddings, baby showers to anniversary celebrations. They can be customized to match the theme of the event or the personality of the honoree, making them a perfect addition to any festivity.
Similarly, in the corporate world, these balloon bouquets are the perfect tool for livening up a dull office space, bringing a touch of playfulness and creativity to the work environment. The vibrant colors and cheerful designs can improve morale and foster a sense of team spirit, ultimately leading to increased productivity and job satisfaction.
Custom balloon bouquets, complemented beautifully with a balloon garland, have the added benefit of being a unique and personalized touch to any event, showing that the organizer has gone the extra mile to make the occasion truly special. Whether it's a birthday party or a corporate event, a custom balloon bouquet and an artistically arranged balloon garland can make a lasting impression on guests, leaving them feeling appreciated and cared for.
Types of balloon bouquets
Birthday Balloon Bouquet
Anniversary Balloon Bouquet
Get Well Soon Balloon Bouquet
Graduation Balloon Bouquet
Love and Romance Balloon Bouquet
Thank You Balloon Bouquet
Welcome Home Balloon Bouquet
In short, balloon bouquets, especially a balloon flower bouquet and custom balloon bouquets, have an undeniable ability to stir up positive emotions and create a sense of joy and wonder. They are a perfect addition to any social or corporate event, bringing life and color to the occasion and leaving a lasting impression on all who attend. Our team of experts will bring out the best of your special occasion and delight your audience with amazing balloon bouquets.
The team at BalloonLab, your go-to for balloon delivery in Chicago, provides balloon bouquet delivery and is ready to design your creative vision and make your special event unforgettable.
Balloon bouquets can be used in a variety of ways in your decor. They can act as centerpieces on tables, decor accents at entrances, or be used to highlight certain areas like a stage or gift table. They are also often given as gifts for special occasions.
The lifespan of a balloon bouquet depends on the type of balloons used and the conditions they are kept in. Foil (mylar) balloons can stay inflated for several days up to a few weeks, while latex balloons might start to deflate after a day or two.
Absolutely! You can theme your balloon bouquet by choosing specific colors, shapes, or printed balloons that fit with your event's theme. You can even add tassels, flowers, or other themed elements to the bouquet.