Balloon Ceiling
Decoration in Chicago
Add some EXCITEMENT to your next event!
Balloon Ceiling Decoration Prices
Starting prices shown below*
How much does balloon ceiling decoration cost?
| | | |
| --- | --- | --- |
| IMAGES | EXAMPLES | PRICE |
| | Balloon Ceiling Decoration 1 | Starting at $159 |
| | Balloon Ceiling Decoration 2 | Starting at $199 |
| | Balloon Ceiling Decoration 3 | Starting at $249 |
| | Balloon Ceiling Decoration 4 | Starting at $99 |
| | Balloon Ceiling Decoration 5 | Starting at $129 |
| | Balloon Ceiling Decoration 6 | Starting at $199 |
| | Balloon Ceiling Decoration 7 | Starting at $159 |
| | Balloon Ceiling Decoration 8 | Starting at $159 |
| | Balloon Ceiling Decoration 9 | Starting at $199 |

Personalized Service
Your inspiration and vision are our mission to craft the most beautiful balloons for your event.

Local Expertise
Our delivery team has extensive knowledge of the local area, experience working with popular event venues, local customers, and cultural traditions.

Quality Service
We are highly invested in the quality of our work, the team members we bring on and professionalism.
Flexibility
We will remain flexible and ensure a stress-free experience when you work with our team.
Beautiful balloons are a great choice for your next special occasion
Balloon Ceiling Decoration Gallery
Helium Balloon Ceiling Decoration in Chicago, IL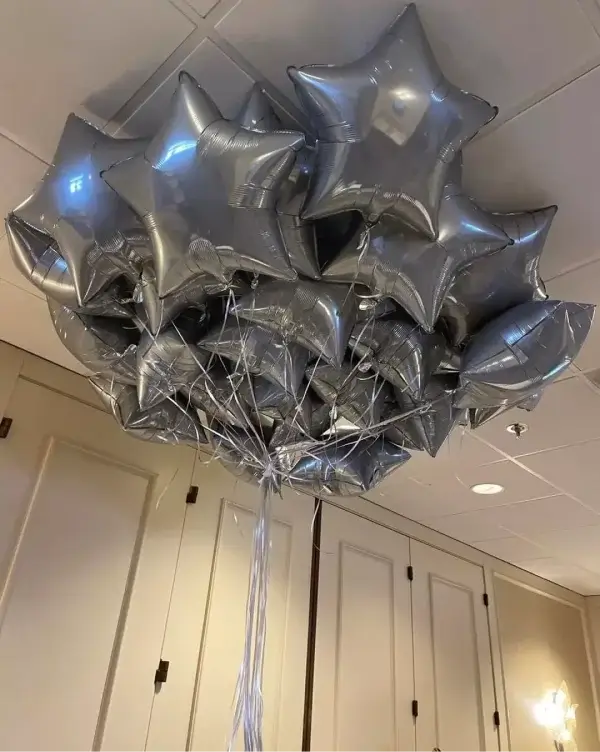 Balloon ceiling decorations are a fantastic option for any corporate or social event! The moment you walk into a room adorned with these colorful, whimsical creations, you can't help but feel an immediate sense of joy and excitement.
There's something truly magical about seeing hundreds of balloons floating above you, creating a fun and festive atmosphere that's impossible to ignore. The vibrant colors and playful shapes of the balloons bring an element of childlike wonder to any space, making it feel like anything is possible.
In a corporate setting, balloon ceiling decorations, along with strategically placed balloon centerpieces, can help break down barriers and encourage team bonding. They provide a lighthearted, carefree ambiance that can help employees relax and feel more comfortable with each other. This can lead to more productive brainstorming sessions, smoother communication, and a stronger sense of camaraderie among colleagues, while the balloon centerpieces spark conversations and create a more enjoyable environment.
Types of balloon ceiling decorations
Balloon Canopies: These create a whimsical effect by suspending clusters of balloons from the ceiling, giving the appearance of a colorful sky.
Balloon Clouds: Balloons arranged in fluffy, cloud-like formations across the ceiling, often used in children's parties and baby showers.
Balloon Chandeliers: Elegant balloon arrangements that hang down from the ceiling in a chandelier-like fashion, adding sophistication to formal events.
Balloon Swags: Long, draped balloon arrangements that gracefully hang from the ceiling, commonly used for weddings and elegant celebrations.
Balloon Constellations: Balloons arranged in patterns or shapes resembling constellations or stars, creating a celestial ambiance.
Balloon Ribbons and Streamers: Long balloon ribbons or streamers cascading down from the ceiling, adding movement and vibrancy to the space.
BalloonLab has been creating balloon drops for the most popular social events, like weddings, birthday parties, or holiday gatherings. Balloon ceiling decorations near me add a touch of whimsy and excitement that guests are sure to remember. They create a festive atmosphere that instantly lifts everyone's spirits and sets the tone for a night of fun and celebration. Plus, balloon decor make for fantastic photo backdrops that will have everyone posing and snapping selfies all night long!
Balloon Ceiling Decoration FAQ
Balloon ceiling decoration involves arranging balloons in a way that they cover the ceiling of a room or venue. This could involve floating helium-filled balloons, attaching balloons with strings or creating a balloon net or balloon drop effect. It can add a dramatic and festive atmosphere to any event.
Yes, a balloon ceiling decoration can be themed by choosing balloons that match your event's color scheme or theme. You can use balloons of different colors, shapes, or printed designs to align with your theme.
A balloon ceiling decoration service provides the design, assembly, and installation of balloon ceiling decorations. This may include sourcing and inflating the balloons, attaching them to the ceiling, and dismantling the decoration after the event if needed.