Add some EXCITEMENT to your next event!
Starting prices shown below*
How much does balloon wall cost?
| | | |
| --- | --- | --- |
| IMAGES | EXAMPLES | PRICE |
| | Balloon Wall 1 | Starting at $399 |
| | Balloon Wall 2 | Starting at $399 |
| | Balloon Wall 3 | Starting at $399 |
| | Balloon Wall 4 | Starting at $499 |
| | Balloon Wall 5 | Starting at $599 |
| | Balloon Wall 6 | Starting at $499 |
| | Balloon Wall 7 | Starting at $399 |
| | Balloon Wall 8 | Starting at $399 |
| | Balloon Wall 9 | Starting at $399 |

Personalized Service
Your inspiration and vision are our mission to craft the most beautiful balloons for your event.

Local Expertise
Our delivery team has extensive knowledge of the local area, experience working with popular event venues, local customers, and cultural traditions.

Quality Service
We are highly invested in the quality of our work, the team members we bring on and professionalism.
Flexibility
We will remain flexible and ensure a stress-free experience when you work with our team.
Beautiful balloons are a great choice for your next special occasion
Balloon Walls in Chicago, IL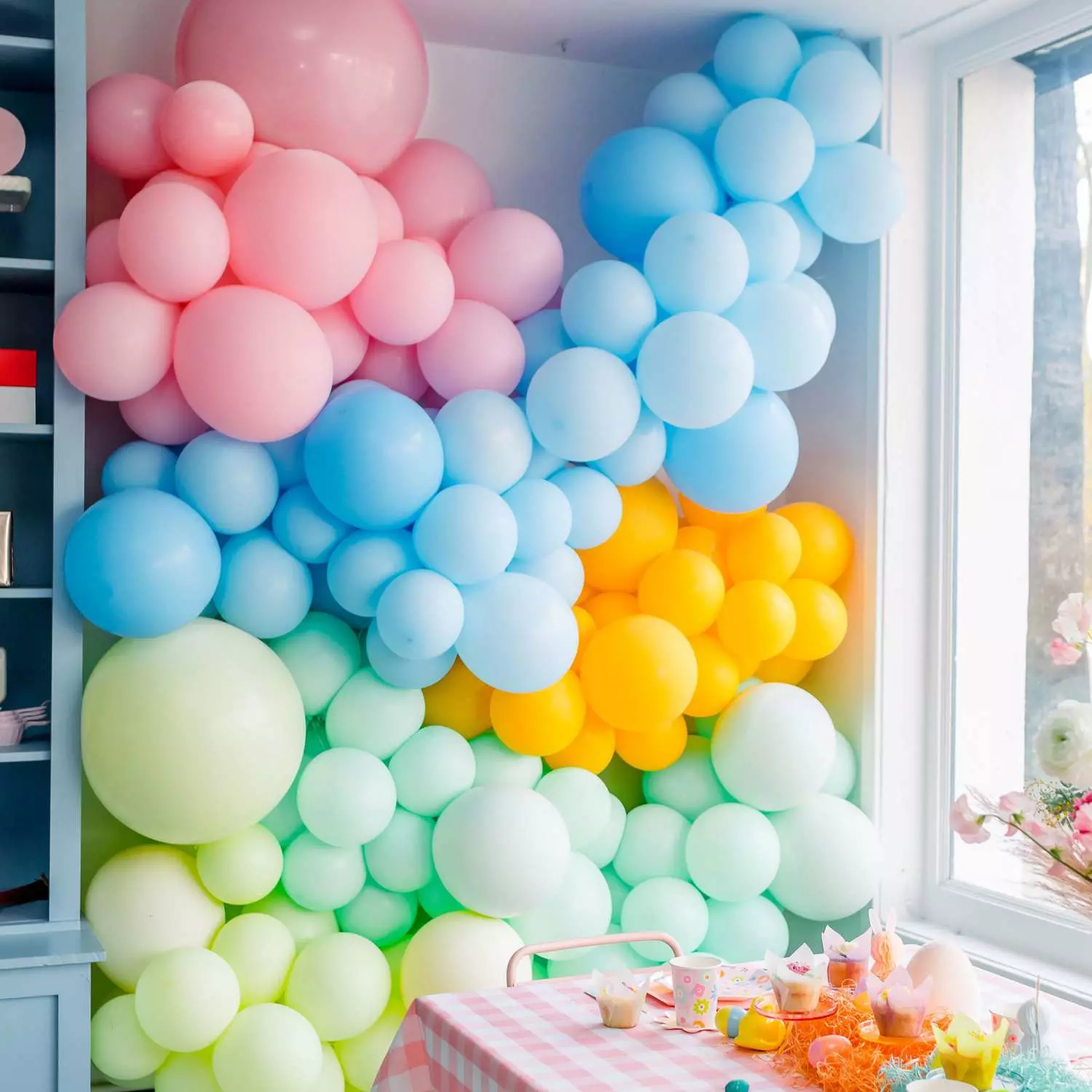 A balloon wall decor, just like an elegantly designed balloon arch, is a decorative feature made up entirely of balloons that can be customized to fit any event theme or color scheme. The balloons can be arranged in a variety of shapes, sizes, and patterns to create a visually stunning backdrop for photo opportunities or as a decorative element in the event space. The combination of a vibrant balloon wall and an enchanting balloon arch can truly elevate the aesthetics of your event.
Balloons are more than just decorations; they're a canvas for creativity. Transform your event with stunning balloon wall arrangements that set the stage for an unforgettable experience. Whether it's a birthday bash, corporate gala, or wedding extravaganza, a balloon wall backdrop adds a pop of color and style that's hard to match. Crafted with precision, balloon walls for parties can be tailored to your theme, incorporating various colors, sizes, and shapes. From whimsical to sophisticated, a balloon wall stand serves as a focal point and a photo-worthy backdrop that elevates your event's ambiance. Elevate your celebration with a balloon photo wall that captures memories in a unique way. For hassle-free arrangements, opt for balloons delivery for balloon wall setups, ensuring your event exudes elegance and flair.
7 types of balloon walls
Classic Balloon Wall: A wall entirely covered with balloons in a uniform pattern or color scheme, creating a vibrant and eye-catching backdrop.
Balloon Mosaic Wall: Balloons arranged to form intricate patterns, logos, or images, often used for branding or thematic events.
Floral Balloon Wall: Balloons combined with artificial or real flowers to create a romantic and elegant wall, ideal for weddings and upscale events.
Balloon Wall with Signage: A balloon wall featuring a personalized message, company logo, or event name, making it a memorable and photo-worthy backdrop.
Balloon Wall with Photo Frames: Balloons surrounding empty frames where guests can pose for pictures, creating interactive and Instagram-worthy decor.
Themed Balloon Wall: A balloon wall designed to fit a specific theme, such as holidays, seasons, or movie premieres, enhancing the overall event atmosphere.
Balloon Wall with Tassels: Balloons paired with hanging tassels or streamers for a playful and celebratory look.
BalloonLab has been delivering fun, for all sorts of occasions and corporate events. Balloon walls near me for parties make for great photo backdrops that can be shared on social media platforms, increasing event visibility and engagement. Balloon walls are incredibly versatile and can be used for a variety of events, such as product launches, grand openings, weddings, birthday parties, and more. Trust our team to get you the best design with your choice of colors to make your event outstanding.
Creating stunning balloon walls for parties is a craft that blends artistry and fun. To make a captivating balloon wall, start by selecting a color scheme that matches your event's theme. Next, gather an assortment of balloons in different sizes and hues. Inflate the balloons using a mixture of helium and air, allowing for varied shapes and textures. Attach the balloons to a sturdy backdrop, arranging them in a pattern that suits your design vision – it could be an ombre gradient, a geometric pattern, or a whimsical arrangement. To ensure a secure attachment, consider using balloon decorating strips or adhesive dots.
For a hassle-free and professional touch, it's recommended to order a balloon wall from BalloonLab. With their expertise and creative flair, they can transform your event space with a stunning balloon wall that's sure to impress. BalloonLab offers balloon walls that cater to various themes and styles, ensuring a seamless and visually appealing addition to your celebration.
The number of balloons needed for a balloon wall depends on the size of the wall, the desired density of balloons, and the overall look you want to achieve. As a general guideline, for a standard-sized wall, you might require around 100 to 150 balloons to create a full and visually appealing effect.
For an effortless and professionally crafted balloon wall, it's advisable to consider ordering from BalloonLab. Their expertise in balloon arrangements ensures that your wall of balloons will be thoughtfully designed and skillfully executed. BalloonLab offers a range of options to suit your event's theme and style, guaranteeing an eye-catching and impressive addition to your décor.
The cost of a balloon wall can vary based on factors such as the size of the wall, the type of balloons used, and any additional customization. On average, you can expect a balloon wall price to start from $399.
To ensure a seamless and stunning balloon wall that aligns with your vision, it's recommended to opt for BalloonLab. With their experience and dedication to creating unique balloon arrangements, BalloonLab offers the expertise needed to craft a captivating balloon wall. Their commitment to quality ensures that your event will have an extraordinary and visually appealing décor element.