New Year's Eve is a time of joyous celebration, marking the end of one year and the exciting beginning of another. It's a time to gather with friends and family, reflect on the past, and look forward to the future. To make this transition even more special, consider adding a pop of fun with new year balloons. Balloons have long been a symbol of festivity, and they can transform any gathering into a memorable event. In this article, we will explore various creative ways to use balloons to elevate your New Year's Eve party and create a vibrant atmosphere that everyone will enjoy.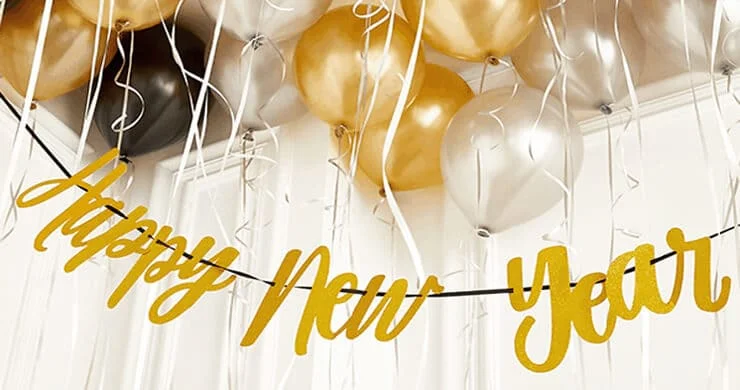 Why Choose Balloons for New Year's Eve?
Before diving into the creative ways you can incorporate balloons into your New Year's Eve celebration, let's understand why they are an excellent choice for this occasion:
Vibrant Colors. Balloons come in a stunning array of vibrant colors, allowing you to set the mood for your party with ease. You can select colors that match your party theme or opt for the classic New Year's Eve palette of gold, silver, and black. The options are virtually limitless.

Versatility. One of the most significant advantages of using balloons is their versatility. They can be employed in numerous ways, from decorations to games and even as photo backdrops. This versatility encourages creativity, enabling you to personalize your celebration according to your preferences.

Budget-Friendly. When planning a New Year's Eve party, budget considerations are essential. Balloons are an affordable option for creating a festive atmosphere without overspending. You can achieve a stunning look without breaking the bank.

Easy Setup. Time is of the essence when preparing for a New Year's Eve celebration, and balloons are known for their quick and easy setup. You won't need to spend hours decorating; inflating and arranging balloons is a straightforward process that saves you both time and effort.
Now that you understand why balloons are an excellent choice for your New Year's Eve festivities, let's explore creative ways to incorporate them into your party decor and activities.
Make your event more colorful with balloons!
Creative Ways to Incorporate Balloons
Balloon Garland
Take your party decor to the next level by creating a spectacular balloon garland. Mix and match colors and sizes to make it visually striking. Hang it above the entrance, along a staircase, or as a backdrop to the party table for a breathtaking effect. You can even add some greenery or flowers to the garland to create a lush and whimsical atmosphere.
Countdown Balloons
Add an element of excitement and anticipation to your New Year's Eve party by creating countdown balloons. Number balloons from 10 to 1 can be popped at each hour leading up to midnight, creating a sense of shared excitement as you count down to the new year. You can also attach small surprises or messages inside each balloon to make it even more fun.
Balloon Drop
The iconic balloon drop is a timeless New Year's Eve tradition that has been captivating partygoers for generations. The sheer excitement it generates is unparalleled. As the countdown to midnight begins, all eyes are on the large net or canopy filled with balloons, suspended high above. When the clock strikes twelve, the release of these balloons creates a breathtaking moment of sheer magic and jubilation.
Photo Booth Backdrop
A dedicated photo booth with a festive balloon backdrop is not only a visual treat but also a memory-making machine. Your guests will have a blast posing with props like hats, tiaras, and noisemakers, creating a treasure trove of joyful moments captured on camera. The balloon backdrop serves as an enchanting and glamorous setting for these photos, ensuring that each snapshot is brimming with celebration and style.
Confetti Balloons
Confetti-filled balloons are like small, portable party cannons ready to explode with joy. The anticipation of when to pop them adds an element of surprise and excitement to your celebration. As the clock approaches midnight and the energy in the room reaches its peak, the collective pop of these balloons showers the space with confetti, instantly igniting a feeling of celebration and wonder.
Balloon Centerpieces
Transform your dining or buffet tables with balloon centerpieces. You can either tie balloons to decorative weights or let them float above the tables, creating an elegant yet playful ambiance for your guests. Add some ribbon or tulle for an extra touch of sophistication.
Personalized Balloons
The beauty of personalized balloons lies in the thoughtful messages or greetings you can convey. You can inscribe motivational quotes, inside jokes, or even heartfelt wishes for the upcoming year. As guests walk into your New Year's Eve celebration and see their names or special messages on the balloons, it adds a warm and welcoming touch that instantly connects them to the festivities. These balloons can also serve as unique place cards, making it easier for guests to find their seats.
Balloon Games
Balloon games bring a playful and competitive spirit to your New Year's Eve party. Balloon darts, for instance, is a game where guests take aim at balloons with darts, hoping to pop them and discover surprises or messages hidden inside. This adds an element of surprise and suspense to the evening, as guests eagerly anticipate the contents of their balloons.
Glowing Balloons
Glowing Balloons As the night progresses and the lights are dimmed, LED balloons that glow in the dark come to life, creating a captivating and enchanting atmosphere. These balloons emit a soft, ambient light that complements the celebratory mood, and their gentle glow adds a touch of magic to the surroundings. Whether they're hanging from the ceiling or scattered around the venue, these luminous balloons transform any event into a mesmerizing spectacle, leaving a lasting impression on all who behold their radiant beauty.
Balloon Wishing Well
Set up a balloon wishing well where guests can write their hopes, dreams, or New Year's resolutions on small pieces of paper and attach them to balloons. At midnight, release the balloons together, symbolizing the release of aspirations for the year ahead. It's a touching and symbolic way to start the new year with hope and positivity.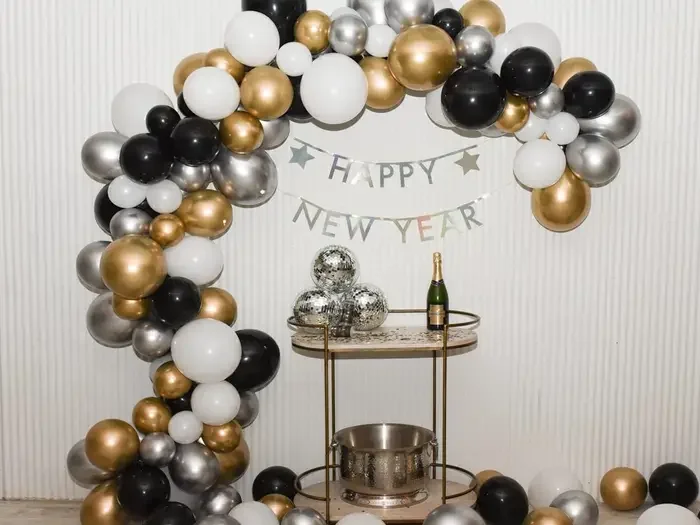 As you plan your New Year's Eve celebration, remember that balloons can be the star of the show, adding excitement and wonder to your gathering. From vibrant garlands and countdown balloons to personalized touches and balloon games, there are endless ways to use balloons to elevate your party.
This year, let balloons be your companions as you welcome the New Year with open arms. With their cheerful colors and playful spirit, they will help you create unforgettable memories and set the stage for a year filled with joy and happiness.
Don't forget to share your balloon decorations and activities on social media to inspire others and spread the joy of celebration!
So, are you ready to add a pop of fun with New Year's Eve balloons?